Today we're pushing out a new update for Tasty Recipes, version 0.7.0. This update fixes a couple minor bugs and adds some fun new features. 🎉
Add images to your Tasty Recipes 🖼️
We now support adding images to the description, ingredients, instructions, and notes fields. What do you do with these images? Anything you want! You can show your readers what a certain ingredient looks like, how to do a certain step in your recipe, or how to modify the recipe as described in the notes.
To add an image, simply click the image button in the editor: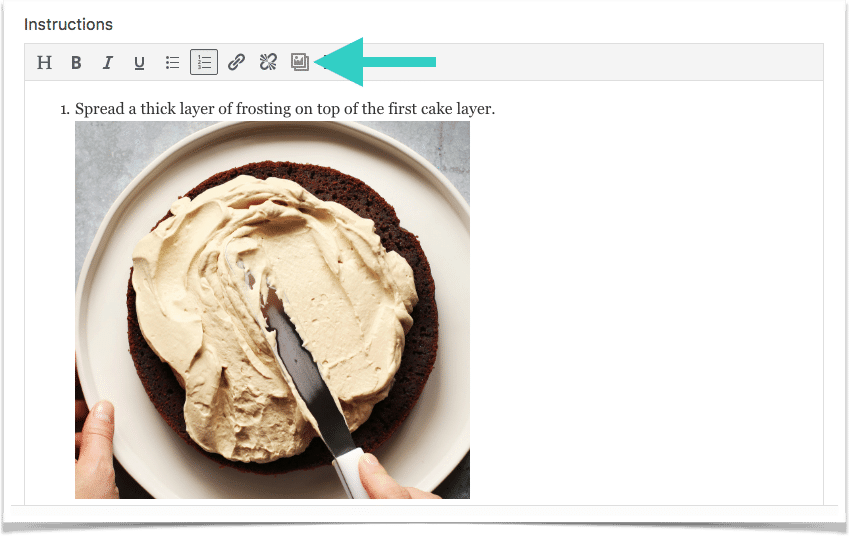 Tip: If you are adding an image to a list and you do not want the image to be its own item (eg. you don't want the image itself to be step 3 of the instructions), press Shift+Enter to put it on a new line but not as a new item.
Change the location of the star ratings ⭐️
By default, Tasty Recipes shows the star ratings above the comment field. However, if you would rather it appear below the comment field, you can learn how to do so here: http://support.wptasty.com/customizing-tasty-recipes/how-do-i-move-the-rating-below-the-comment-field
Don't Forget to Update! ⚡️
You should see an update for Tasty Recipes in your WordPress dashboard. Make sure to update to start using these new features.
Haven't purchased yet?
If you're interested in learning more about Tasty Recipes, check it out here: https://www.wptasty.com/tasty-recipes