This Tasty Recipes update introduces built-in templates in the plugin settings page, multiple images in the structured data to comply with Google's recommendations, and a converter for Simple Recipe Pro.
Today, we're pushing out an exciting new update for Tasty Recipes with some new features that I think you're going to love. Here are the top 4 things to look out for with this new update:
1. Built-in Styles on the Settings Page
Tasty Recipes now has the recipe card styles baked right in. You can select from any of our pre-made templates by navigating to Settings → Tasty Recipes in your WordPress Dashboard.
If you previously used the Bold or Fresh recipe card templates, we recommend you switch over to using the built-in ones. You can read about making that switch here.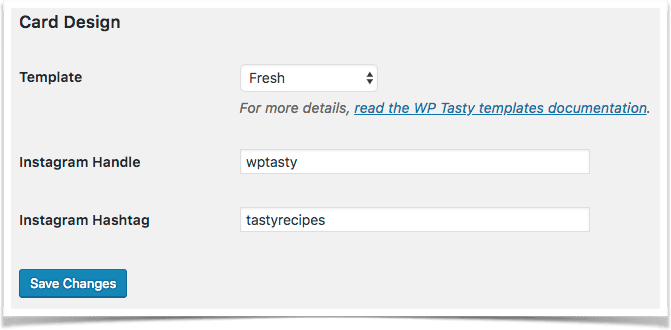 ​
2. Multiple Images in Structured Data
When we built Tasty Recipes, Google didn't have clear recommendations for the image size or shape you should include in the structured data. Now, they do.
Tasty Recipes conforms to these latest guidelines and provides three images with 1×1, 4×3, and 16×9 ratios of your selected image in the structured data. These images will be automatically created when you save a new recipe.
What about your old recipes? We thought of that, too! Tasty Recipes will work behind the scenes to go back and generate all these images for your recipes while you sleep. 😴 Depending on how many recipes you have, this process should be complete in just a few days.
3. A Converter for Simple Recipe Pro ⚡
If you haven't heard, we are acquiring Simple Recipe Pro! Read more about that acquisition. We're releasing our Simple Recipe Pro conversion tool today for anyone who used to use Simple Recipe Pro and wants to get those recipes moved over.
4. Bugs be Squashed
Customers reported bugs with converting WP Recipe Maker recipes with "advanced nutrition" and with the print button not triggering the print dialog. We're happy to say those bugs are now taken care of.
Don't Forget to Update! ⚡
If you're a Tasty Recipes customer, you should soon see an update for Tasty Recipes in your WordPress dashboard. Make sure to update to start using these awesome new features.
Want to share your feedback on what we should build next? You can do so here: https://www.wptasty.com/tr-feature-requests
Interested in Tasty Recipes?
If you've been tossing around the idea of giving Tasty Recipes a try, these updates might just make you pull the trigger! We're always looking for new ways to improve Tasty Recipes, and you can be confident that your recipes will be beautiful, functional, and fully supported.
Take a look at all Tasty Recipes has to offer here: https://www.wptasty.com/tasty-recipes
Also, don't forget about our 14-day money-back guarantee! Trying Tasty Recipes is risk-free, and we think you'll really like it.