We just pushed out a new version of Tasty Pins and we're pretty excited to announce added support for Pinterest titles! 🎉
Here's what you'll find in Tasty Pins version 1.0.0:
A new field for adding Pinterest titles to an image.
Updates to the EDD Updater to v1.6.19.
Added support for Pinterest Titles 📌 ✨
Pinterest titles will soon be required on all new Pins, so we've added an additional field just above your Pin description. Start adding those titles!
Note: Pinterest is still in the process of rolling out support for Pinterest titles. This latest update to Tasty Pins is to optimize compatibility for Pinterest titles in the future and to provide compatibility with current features in Tailwind. You may not see you Pinterest tiles successfully passing to Pinterest quite yet, but they should successfully pass through to Tailwind for scheduling.
Want to learn more about using Pinterest titles? Check out our latest blog post on How to use Pinterest Titles. 🧐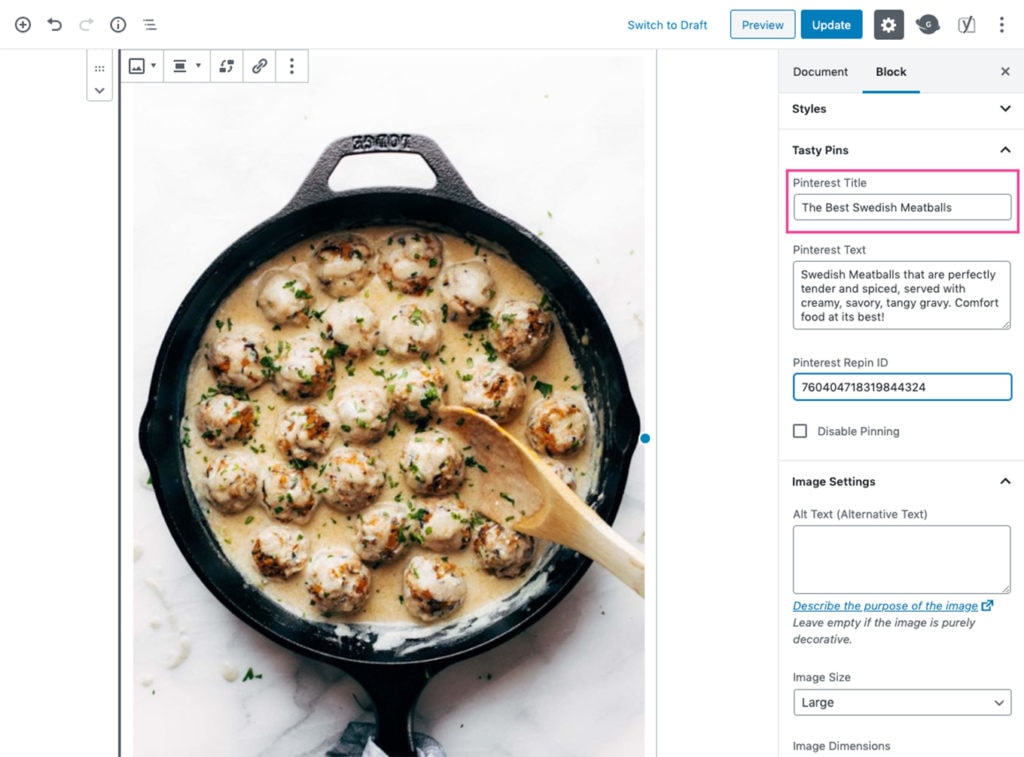 Updates to the EDD Updater to v1.6.19 🐛
Updates to the updater that handles Tasty Pins licensing.
Don't forget to update! ⚡️
You should soon see an update for Tasty Pins in your WordPress dashboard. Make sure to update.
Interested in Tasty Pins? 💃
If you've been tossing around the idea of giving Tasty Pins a try, these updates might just make you pull the trigger! We're always looking for new ways to improve Tasty Pins, and you can be confident that we'll keep supporting you on your blogging journey.
Take a look at all Tasty Pins has to offer here: https://www.wptasty.com/tasty-pins
Also, don't forget about our 14-day money-back guarantee! Trying Tasty Pins is risk-free, and we think you'll really like it.
To learn more about the WP Tasty affiliate program, visit: www.wptasty.com/affiliate