In the coming months, WP Tasty will be bumping their minimum version support to WordPress 5.1 and PHP 7, beginning with the upcoming Tasty Links release (v. 0.8.0).
Why Should I Update my Site?
First and foremost, security.
Running outdated versions of WordPress and PHP makes your site vulnerable to the bad things that can happen on the internet. We're not even going to think about the bad things 😬, let's just update our sites instead. 👍
Secondly, speed! Speed is the best.
With every release performance increases. Depending on how far behind you're running, site performance could be doubled. Take a moment to let that sink in. DOUBLED.
Third, compatibility.
Not as glamorous as speed, but still important. Newer versions of your favorite plugins may no longer be supporting older versions of WordPress or PHP.
You may notice many of your favorite plugins are working just fine on your old WordPress version. While they aren't broken (yet), you may be missing out on fun new features that have been added. For example, with the latest release of Tasty Links the functionality to Automatically Add Images from an Amazon Associates Link won't work in WordPress versions older than 5.1. Again, not broken, but a cool new thing that could make your life on the internet a little bit easier. 💅
Not sure what version you're running? Here's how to check:
How to find your WordPress version
Finding what version of WordPress you currently have on your site is as easy as logging in and taking a look at the Dashboard. From the Dashboard, you can find it in two spots.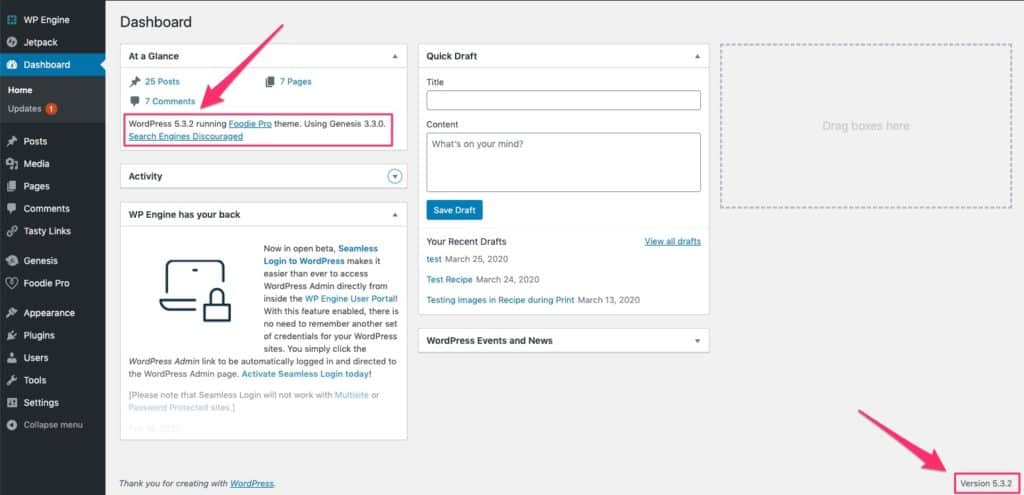 If you're up-to-date, great! You're all set. If you need to update your WordPress version we recommend always starting on a staging site before you move to your production (live) site. If you aren't comfortable doing this, reach out to your developer for support.
How to find your PHP version
The PHP version isn't something you can access from your WordPress admin. Instead you'll need to login to your host to find what version of PHP you're running. Depending on where your site is hosted, this can be found in a number of places within your hosting account. Best to reach out to your hosting service for specifics.
If you find you're running a PHP version older than 7.0, we recommend reaching out to your site host for specifics on updating and then working with a developer to make those updates. As always, make changes on a staging site before you try to make any updates to your production (live) site.
If you're a little (or a lot) behind on the updating your site to current versions of WordPress or PHP, hopefully this will get you moving in the right direction! Always feel free to reach out to our support team for guidance as you make the updates.