Want to learn how to add affiliate links in WordPress? It's easy! We'll show you how to do it in 3 steps.
So you've joined an affiliate network and you've written some WordPress posts. Once you learn how to link to affiliates on WordPress, pretty soon your affiliate marketing empire will be in full bloom.
There's just one problem… Now you need to add billions of links to your WordPress website. All that copying and pasting is going to take forever. Yuck!
🤔 If only there was an easier way to add affiliate links to all your posts and pages… Well, you're in luck – because there really is a much easier way.
Today we'll learn how to set up affiliate links on WordPress. This solution will save you hours of work. If that sounds good to you, let's get started!
How Do I Add Affiliate Links to WordPress?
Folks, we can do this the easy way, or the hard way:
✅ The Easy Way (Using a Plugin)
Add your affiliate link
Set your keywords
You're done!
👎 The Hard Way (Doing it manually)
Find every keyword to link on your site manually
Copy your affiliate url where you want the text linked
Paste in your link every time, again and again…
Why Adding Links is Easier with an Affiliate Plugin
An affiliate links WordPress plugin is going to be one of your most potent tools as an affiliate marketer. It will save you time and give you a huge edge over the competition.
The main advantage to an affiliate links plugin is that you can add links automatically. You'll be able to associate affiliate urls with the keywords of your choosing. Then the links will auto-populate throughout your site every time the keyword appears.
Which Affiliate Links Plugin Should You Choose?
There are a lot of choices when it comes to affiliate plugins:
Tasty Links
AffiliateWP
ThirstyAffiliates
Auto Affiliate
And more…
So which one should you choose? The one that's going to help you maximize your commissions! Here's what Tasty Links brings to the table:
Add "nofollow" and sponsored affiliate links
Automatically add disclosure text after to posts
Set the maximum times a keyword will be replaced on a page or post
Automatically add Amazon Associates affiliate images
Unlimited support
14-day money-back guarantee
It's natural to have heard about the rules and requirements of affiliate marketing and wondered, does WordPress allow affiliate links? It does! And better yet, Tasty Links takes care of all regulations so you don't have to worry.
Plus, Tasty Links has even more stuff you won't find anywhere else.
One prime example: Featured Link Blocks. Instead of using custom code or banners or learning how to add affiliate links to your WordPress sidebar, just add a block within the Gutenberg builder like so: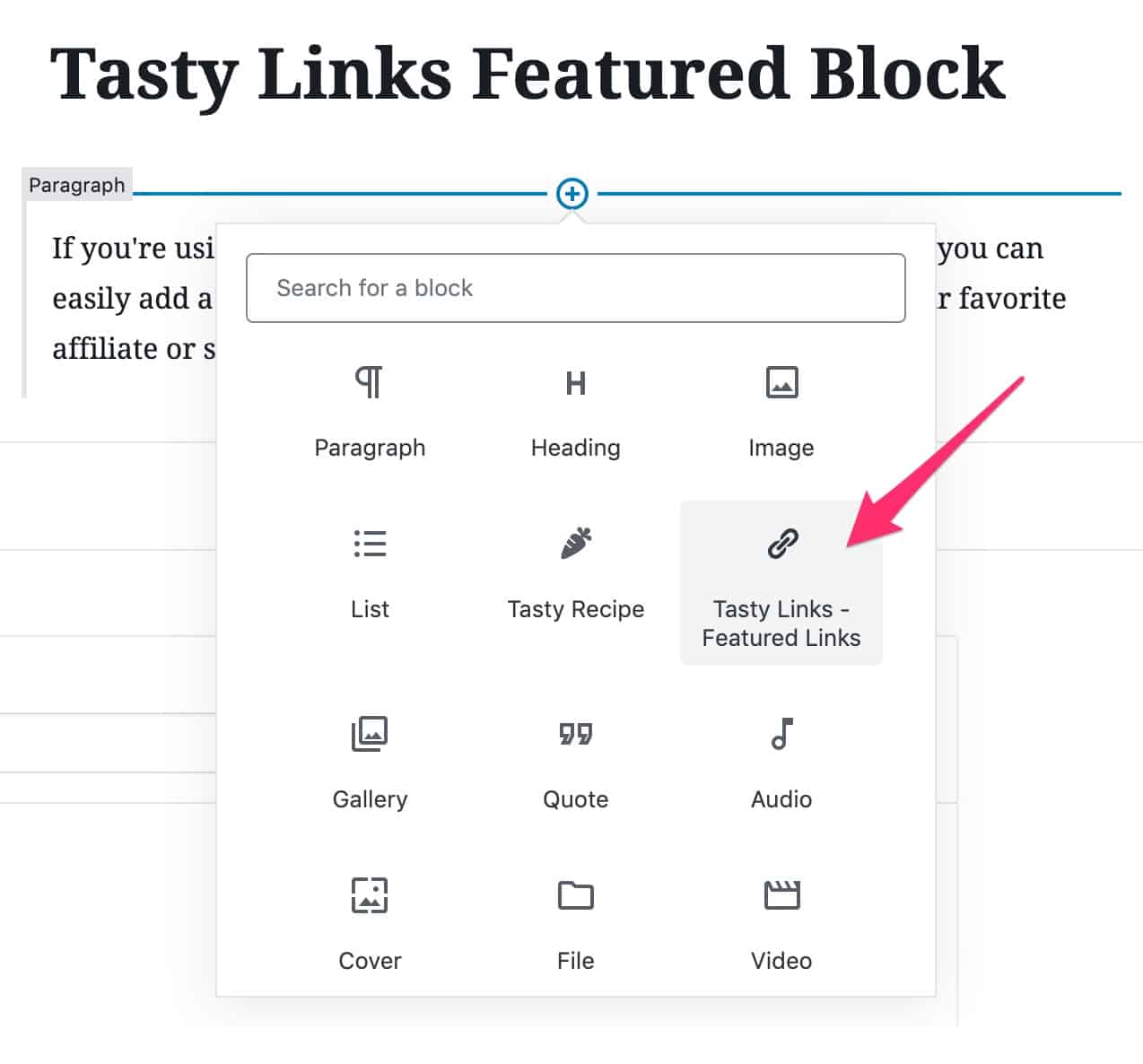 Then you just need to choose which links to pull in from a dropdown menu. If you've added images to your links, you'll end up with something like this: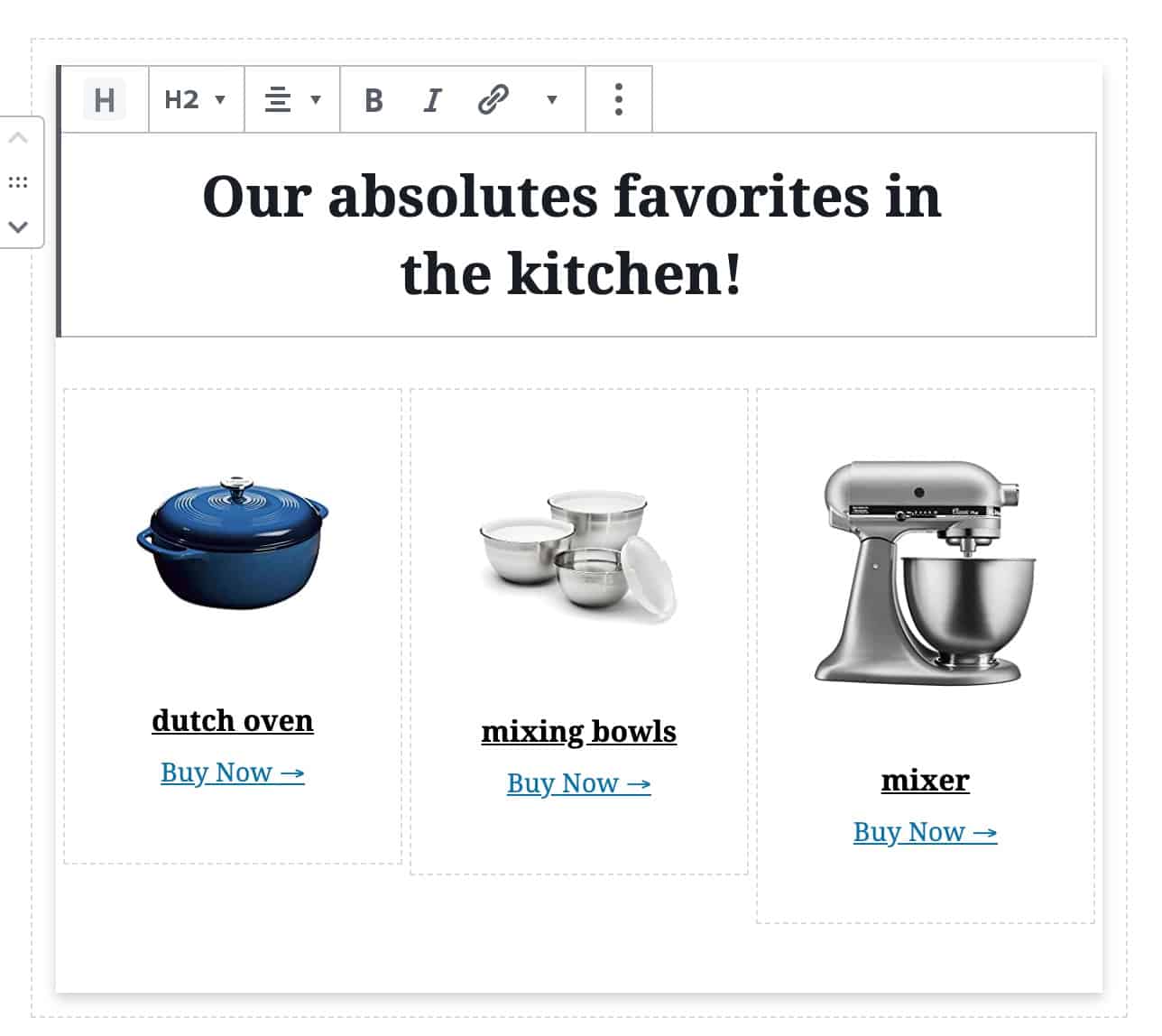 Tasty Links plays nice with Gutenberg too, so you'll be able to create link buttons easily too. Plus, there are no limitations to how many links you can create. And they can come from any source you choose – even the ever-popular Amazon Affiliates links can be added!
Want to see this plugin in action? Here's how to add affiliate links to WordPress blogs.
3 Steps: Get Started with an Easy Affiliate Plugin
Let's learn how to create affiliate links in WordPress. It's as easy as 1, 2, 3!
To insert links for your Amazon products or products from any affiliate program, all you need is one plugin: Tasty Links.
Tasty Links is a powerful, lightweight plugin for WordPress blogs. With just a few clicks, you can create links to your affiliate products across your site. Just set the keywords you want to add links to and they will be automatically added!
Here's how to insert affiliate links in WordPress using Tasty Links:
Install and activate Tasty Links
Add new Tasty Link
Set keyword & paste affiliate link
Stick around for our step-by-step guide, or watch this video to see how easy it is to get started.
1. Install and Activate Tasty Links
This step is about as easy as it gets. Head to our pricing page and grab Tasty Links (or our All Access Bundle) as an instant download. From there, you'll create your account page from which you can download your plugins. Then just find the Plugins > Add New option to upload the plugin.
If you've never installed a WordPress plugin manually, check out our guide on how to do it!
2. Add New Tasty Link
Adding affiliate links to WordPress really just takes a few seconds. Just click Tasty Links > Add New from the menu in your site admin.
3. Set keyword & paste affiliate link
Now you just need to fill out the fields and set the options how you'd like: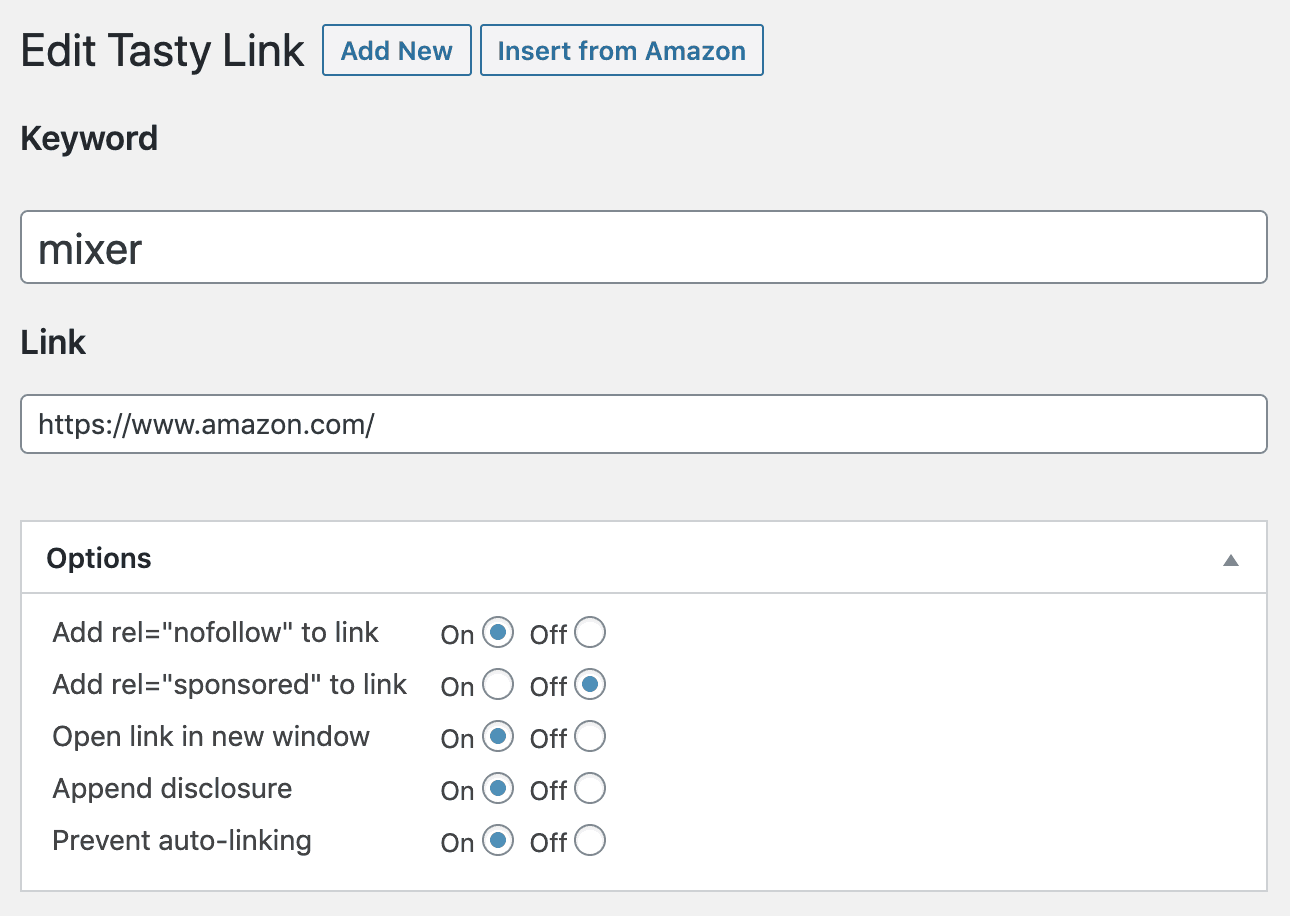 Wrapping up
That's really all there is to it. Now that you know how to use affiliate links in WordPress, you can say goodbye to copying and pasting all day and night!
If you are looking for more details on how Tasty Links works as a WordPress affiliate plugin, check out our help docs:
Plus, keep it locked to WP Tasty for great affiliate marketing posts like these:
We hope you've had as great a time reading this as we did writing it! Good luck on your quest for your next commissions record 🙂 If you still aren't sure how to put affiliate links on WordPress blogs, leave us a comment below!
By the way, you can enjoy more commission opportunities with Instacart (offered by Tasty Recipes), which provides your readers with shoppable recipes and earns you affiliate revenue.